The past few months have been really exciting for us at HyperTrack. We have received a ton of love from customers and our business has grown substantially. Customers are at the center of our company so we are happy to share this update with you as our roadmap is shaped by your feedback.
The features we recently launched help you improve your last mile logistics by giving you quick access to KPIs that drive success and refining the customer experience with enhanced order assignments and tracking. These updates touch all aspects of our platform - from operations views and dashboards to mobile apps to help you quickly add location based insights to enhance last mile performance.
Operations Views and Dashboard
Ops views and outage tracking
A key component of improving last mile logistics is providing support to operations managers to monitor ground operations and quickly identify areas that need their attention. In this release of the HyperTrack Scoreboard we help ops managers improve the customer experience in two ways: giving a fast path to deep dive operational KPIs and new views for tracking outages. Check out the video above for a peek into the new ops views that will help you know more about customer issues and over-deliver!
Order Assignment and Tracking
Launch of Scheduled Order Assignments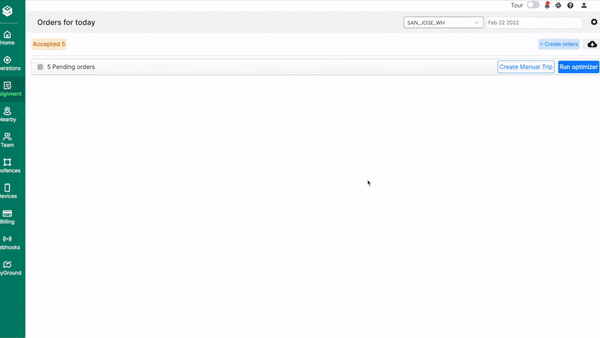 We have expanded our product suite to include scheduled order dispatch! Customers can now use HyperTrack for on-demand and scheduled order dispatch and seamlessly manage both types of ordering flows combined with our industry leading last mile order tracking products.  Sign up here to join the closed Beta program.
Granular order status webhooks
To provide end consumers predictable visibility into when their order ETA, we have added webhooks to our order tracking experience for when orders are one hour away or fifteen minutes away. Customers can use these webhooks to provide end consumers order arrival visibility in a standardized experience.
Richer tracking experience for end consumers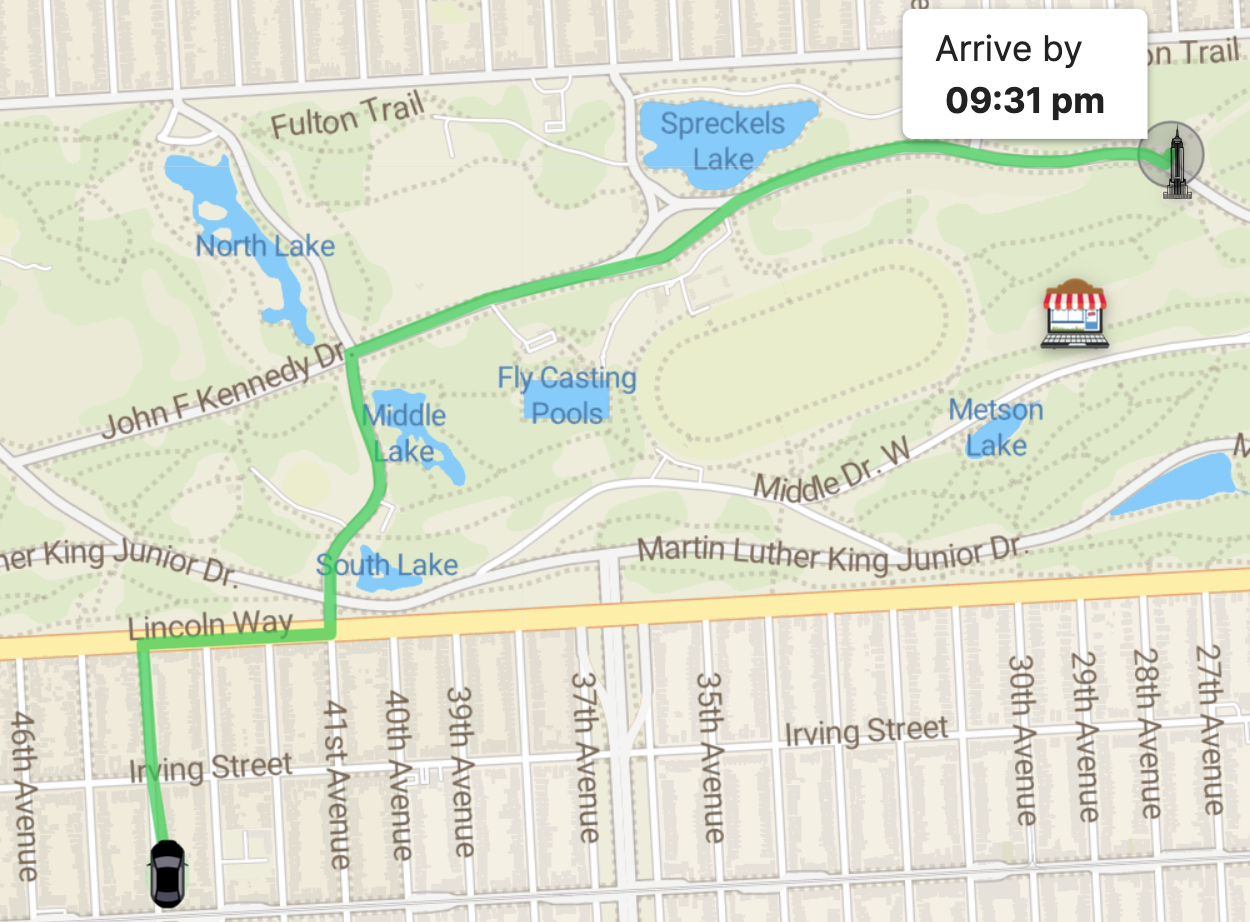 To tailor the experience for end consumers based on their orders, customers can now use custom icons to display the pickup and drop locations for specific orders. For instance, a different icon can be displayed for a pickup from a pharmacy versus a pick up from a restaurant to provide a better experience.
Reduced latency for order ETAs
To improve the end customer experience and provide quick visibility into the order ETAs, we have reduced the time for order ETA generation by ~70%!
Mobile
Visits App update
We have added features to the HyperTrack Visits App which offers no-code customers the quickest way to add location based intelligence to their last mile logistics. Customers can now assign orders to their Visits App Users and track their completion as seen in the video above. App users can also add orders on the go as they are received to provide live tracking.
Learn more about the Visits App here.  
General
Service status page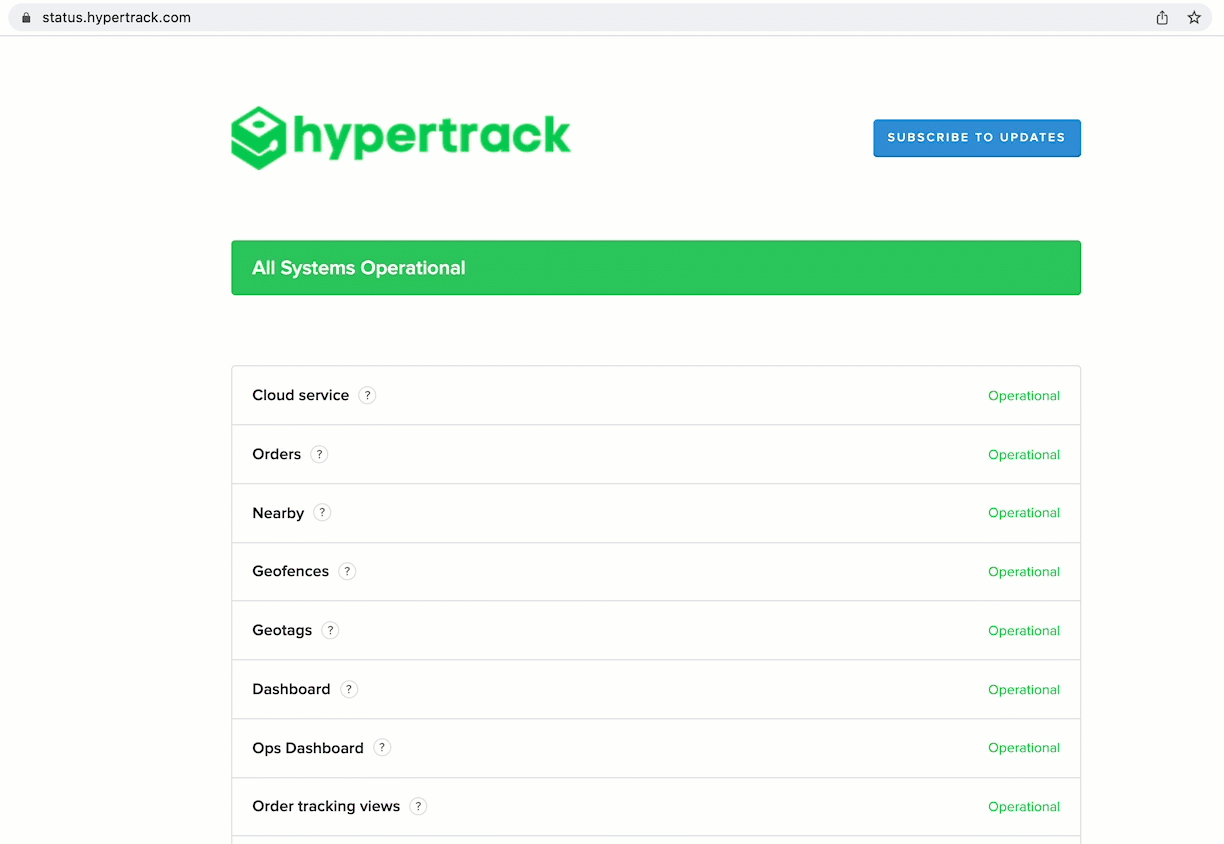 To communicate HyperTrack service outages to our customers, we have created a service status page. Customers can subscribe to the page to be proactively informed of any outages and their resolution.
All of the above features were developed with the logistics tech builder in mind. We understand the challenges of meeting ever increasing customer expectations so we want to bring solutions that help you deliver. Whether your goal is to have more insight into your fleet's operations or create scalable logistics infrastructure, we want to help you get there. Let us know  if you have any questions about this update, as always please reach out to us at help@hypertrack.io or sign up to get started today!