We are excited to share our product updates from Q2 '22. This quarter we released a more powerful Nearby Search to help you with on-demand order assignment, improved your ability to manage drivers who are available for work and release a new version of our Android SDK with better outage handling and reduced size. We also made it easier for you to dive into your logistics KPIs to find root causes of deviations. More details on these and other features released in the quarter below.
Order Assignment and Tracking
Search for nearest drivers in new ways:

We released a new version of Nearby Search that allows customers to search for drivers based on 'Region' or 'ETA'. Region-based searches return all the drivers closest to an order destination sorted on Haversine distance while ETA based searches return the nearest drivers based on route time including live traffic. Customers can use this functionality to find the candidate drivers in an area, filter them based on internal business criteria and find the nearest and best drivers for an order to provide an accurate fulfillment ETA promise to end consumers. Go here for API details.
Manage drivers available for work:
In the world of gig work, drivers can become available or unavailable for work at any time of the day. This requires you to react as they change their status so you can track their location and assign relevant nearby orders. When drivers are made available, HyperTrack will intelligently collect their location data so you can assign on-demand orders to the nearest drivers and reduce fulfillment times. We launched a new SDK method to better manage drivers in your fleet who are available to accept orders. Check out the guides here to learn more.
Show driver path for flex routes:
Many of the teams we work with have routes with multiple orders and the sequence is decided on-demand by the driver. Now you can show the expected path for these flex routes in consumer tracking links. This means that your customers can see where their order is as it is en route to the destination. The better the visibility, the better the experience for your customers!
Add order ETA to tracking view to help ops managers: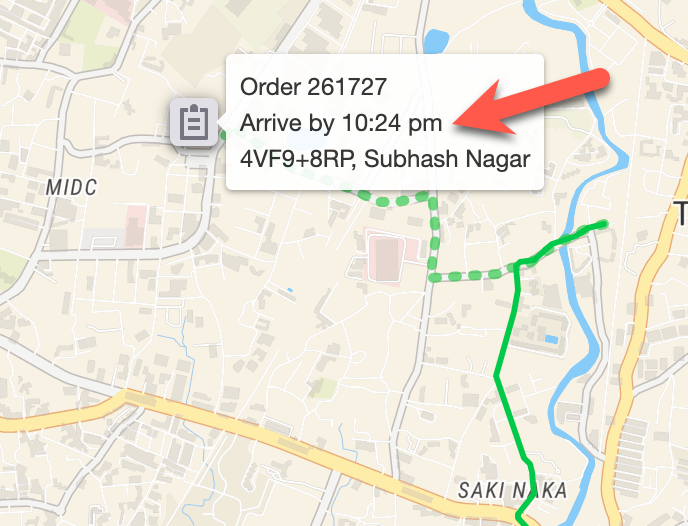 We have made improvements to the order tracking views that can be embedded in internal dashboards to manage logistics operations through HyperTrack. The view now includes the order ETA  so ops managers can easily know what time an order is expected to be fulfilled in addition to tracking driver progress on the map. The screenshot above shows this new view!
Mobile
Install new Android SDK:
We released a new version of our Android SDK with better outage handling and reduced size. The new SDK automatically reports all outages in realtime and starts tracking immediately when outages are resolved. The size has also been reduced by 75% to 4 MB! Customers should use the new Android SDK to access this functionality. For more details, reference the changelog here and install the SDK here.
Operations Views and Dashboard
Analyze specific time frames within a trip:
Logistics teams often need to analyze specific time frames of their fleet's trips to improve operations and solve customer issues. In such cases, it is important to analyze specific time segments of a trip. For instance, if a work shift at a site was expected to start at 9am and end at noon, you may want to know the fleet members' trip tracking analytics during that specific time segment.The HyperTrack Trips API enables you to do just that with our new analytics endpoint which allows you to specify the trip id and the specific time frame you would like to retrieve the analytics and build your workflows. Check out the documentation here.
Operations KPI views:
You need to make the right decisions quickly so we've provided KPI views that help your ops team deliver results. Your dashboard now allows you to drill down on the KPIs that matter - explore trends for orders, tracked users,  geofence visits, nearby searches, or geotags. Click on the video to learn more and see these new views in action.
Ability to use to and from date for Scoreboard: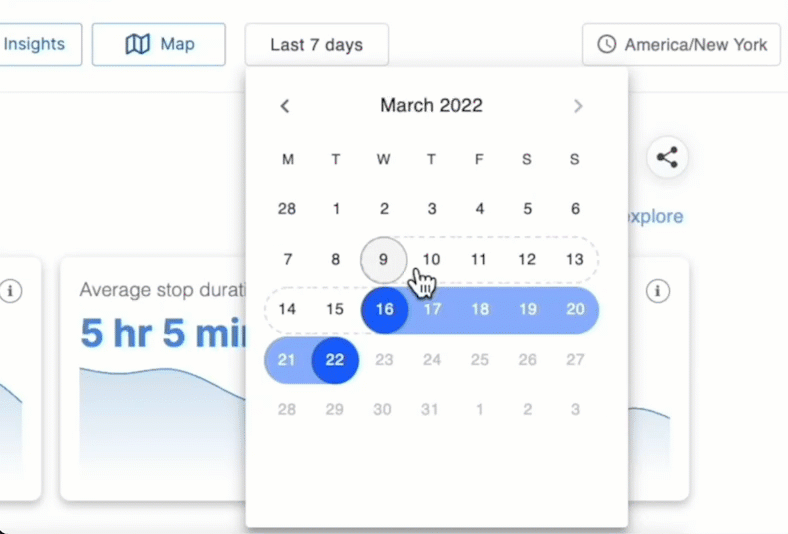 We've made it a little easier to select dates ranges to view Scoreboard data. Date range selection for the KPIs chart and list views now supports custom date ranges, up to 30 days duration.
Let's talk!
Success in last-mile delivery requires teams to plan, track and measure productivity. The features we released this quarter help you do this with more control and flexibility. As your innovation partner in building the logistics tech of the future, we want to hear about what you're building – reach out at help@hypertrack.com to discuss your project or let us know what you think about these Q2'22 updates.