In August 2011, Marc Andreessen wrote a guest article for the Wall Street Journal explaining Why Software Is Eating the World. At the time, I was running the digital commerce subsidiary of a leading retail conglomerate with 30,000 employees. We called ourselves digital commerce, and not ecommerce. Our vision was to digitize the group assets to build the future of retail. Some called it omni-channel commerce, others called it connected commerce, and if it were 2019, we would call it digital transformation.
Better from the inside than outside
Andreessen's article spoke of the profound impact of software in commerce, media, marketing, telecom, and a list of "industries that are widely viewed as primarily existing in the physical world." The list included automobile, retail, oil & gas, financial services, healthcare, education, defense and governance. It rang true because our digital commerce division was often seen as eating the group's physical retail world, and yet the reason to accelerate it was that if it were to happen, better from the inside than outside.
Software is eating the world, in all sectors. In the future, every company will become a software company. – Marc Andreessen (2011 in WSJ)
The world's top 10 public companies in 2011 were split between financial services and oil & gas. No software company was on the list. If top 10 is any indicator, software has eaten the world quite decisively and represents 7 of top 10 public companies at the time of writing. The article was prescient.
Software is eating the world that moves
Now, I run a company called HyperTrack. We quench the hunger of software that is eating the world that moves. Let me explain.
From one vantage point, more enterprises are building more software to digitally transform their businesses. Software is being built by more in-house teams, and more 3rd party software vendors than ever before. This has given rise to API companies that help these developers keep up – tools for developers to build with and managed services for developers to operate their applications with.
From another vantage point, the supply chain of businesses is getting more distributed and de-centralized. Orchestrated by software, more business assets in the form of people and vehicles are on the move. The moving enterprise is a more significant portion of the modern enterprise than before, and developers are building more software to manage it.
At the intersection of the two, HyperTrack is the live location API for developers to build software eating the world that moves. Live location is the dot that connects this physical world with software.
Digital transformation of asset tracking
Our partners at Seven Lakes Technologies in California power digital transformation of the world's leading Oil & Gas companies. A recently published article about their vision contrasts asset tracking technologies of the past and future. The old generation technology with GPS connected to vehicles and laptops was built to track. Technology of the future using live location through the field operations app is built to respond. Visibility is yesterday's problem, actionability is the future.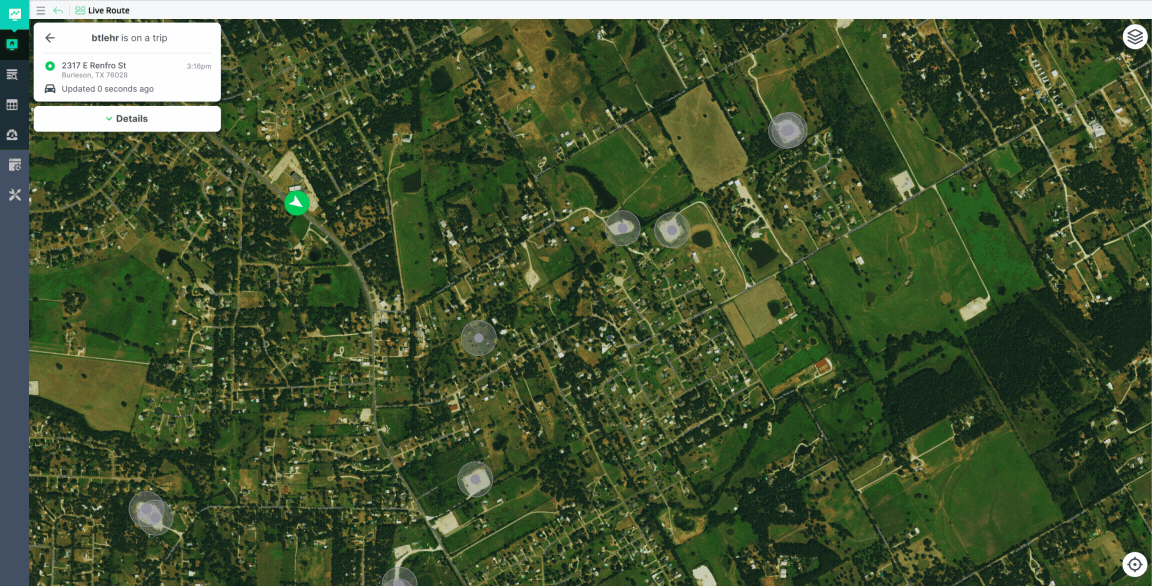 A dipstick of HyperTrack's 10,000+ strong user community reveals that 50% of our users are building field workforce automation apps for enterprises in their respective regions. Developers are building field operations apps with HyperTrack to power enterprises in financial services, logistics, healthcare, oil & gas, hospitality, retail and telecom.
Live location data from fleet management apps is available in the cloud to build software applications that improve productivity and service levels. Connecting the point of occurrence and point of action in real-time drives efficiencies that are inconceivable with vehicle connected GPS.
---
Be the change
Imagine that you could tap into the data about anything that moves in your world of business, and build software applications that make them better. What would you build? We are committed to getting you there.
To get you started faster, we wrote a tutorial to build in-app telematics for operations managers in 3 steps. Use this to track devices visiting a list of places through the day.
Meet us at AWS re:Invent
HyperTrack's head of developer experiences, Alexander Graebe, is going to be on the main stage with the AWS apps team at re:Invent in Las Vegas on December 3. He would show case some of the top use cases that our users have built with HyperTrack, and in turn how we have used AWS AppSync and Amplify to make real-time locations come to life. If you are interested in learning more about HyperTrack in person, please come meet us at the event. Write us here to schedule a time.